The Desolation of the Cybermen is the first episode of Series 1 of Doctor Who : Second Life - The Audio Adventures and was released December 2nd 2018 on the Twine Light Media YouTube channel. Desolation serves as the official beginning to Kerian Twine Doctor in the world of Second Life and is also an official reboot/prequel to the earlier animated Second Life episodes from 2005 - present. In the episode - a newly regenerated Doctor finds himself coming up against a group of Cybermen hell bent on converting everyone on Earth.  Desolation also serves as the first audio adventure produced by Twine Light Media and borrows sound effects from the earlier episodes in Second Life. The personality of the Doctor is also explored more in this adventure with the voice acting being more natural then stale in the previous stories. 
Desolation received critical acclaim for voice acting, direction, pace, writing and musical score. A follow up is in production and set for release December 31st 2018.
IMAGE PENDING
the Desolation of the Cybermen
Season:
1
Story Number:
1
Doctor:
Kerian Twine Doctor
Companions:
Thomas Topham
Writer:
Harry Hayfield & Kerian Twine
Producer:
Twine Light Media
Release Date:
2nd December 2018
Running Time:
34 min
No. Episodes:
1
Previous Story:
-
Following Story:
One Day
"The Doctor finds himself in 18th Century London - uncoiling another scheme by a group of Cybermen hell bent on converting everyone on Earth who are being led by the one man he thoght he'd never meet again - John Lumic"
Continuity
Edit
This story is the first official apperance of the Second Life Doctor in chronological order
The Doctor talks about his beard tickling when he came out of regeneration. The beard first appeared in "The Angel"
The Doctor comments on all his previous incarnations from the first to himself including the new canon 13th Doctor
The Doctor talks about Benton from UNIT
The TARDIS is the same TARDIS introduced in the Second Life adventures abehit this isn't a new console room
"The Doctor refers to the TARDIS as "sexy" his 11th incarnation did the same thing
The Doctor talks about the parrellel world he visited with Rose 
John Lumic talks about falling into Battersea Power Station in the conclusion "Age of Steel" episode
The sonic screwdriver is that of his 11th incarnation
Production
Edit
TBC
The Doctor - Kerian Twine
Thomas Topham - Danny Mulholland
Cybermen/John Lumic - Jaspreet Singh 
Edited by Kerian Twine with Movie Studio 15.0
Music by various artists 
Production NotesEdit
misc
https://www.youtube.com/user/TwineLightMedia  https://www.youtube.com/watch?v=tPGQBOUb75U 
ditto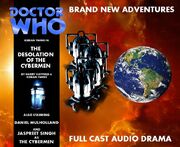 Community content is available under
CC-BY-SA
unless otherwise noted.