Another way fans have stamped a little of their creativity onto the Doctor Who brand is by redesigning the logo, with varying degrees of success. For information on the official BBC logos, see the TARDIS wikia article.
Fan Films
Edit
http://geeksyndicate.files.wordpress.com/2010/04/doctorwho2010.jpg
DennyFilms Productions
Edit
The logo is a play on the 2005 BBC series, with a hint of the 2005-10 logo.
Swinging Lizard Productions
Edit
The logo in series one was a basic Eight Doctor logo rendered in black and white. For series two a new logo was introduced, based roughly on the diamond logo.
OCS Productions
Edit
The logo which appears in I Know That Voice is a redesigned version of the Troughton logo.
Fan Audios
Edit
BrokenSea Audio Productions
Edit
BrokenSea kept the original arrangement, but changed the font.
Darker Projects
Originally using the old vertical style and incorporating some of the series' icons (the TARDIS and Seal of Rassilon), later adopting the horizontal layout in amore simplistic style.
Own Productions 
Edit
Its been unknown 
===
===
The Doctor Who Audio Dramas (DWAD)
Edit
In the DWAD's 27 years of creating audios, they have used numerous logos.
Season 27
Edit
In the top right corners of these CD covers are Season 27's two logos. The first is a variation on the 1973-80 diamond logo, while the second is more original.
Ultimate Reality
Edit
Seen in a promotional banner for the unfinished story The Caverns of Blood.
Fan Fiction
Edit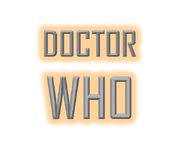 Community content is available under
CC-BY-SA
unless otherwise noted.