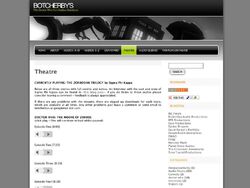 Launched on 31st March 2008, it is a site dedicated to information on Doctor Who fan audio dramas. It is hosted on Wordpress. The site is named after the character Oscar Botcherby from the Doctor Who TV episode 'The Two Doctors'.
Mission Statement
Edit
To maintain a full listing of all fan produced Doctor Who audio dramas, and some relevant spin-offs. Where possible providing links to the creators websites and downloads.
To post details of newly released audio dramas. Occasionally they'll be trailers for forthcoming releases too.
For those audios that have been lost in the winds of time, Botcherby's will be contacting old producers for permission to host them for short periods, and hopefully get the authors comments too.