Blender 3D

Website:

Used for:

Current Version:

2.49b

Preview Release:

2.5 Alpha 2

Price:

Free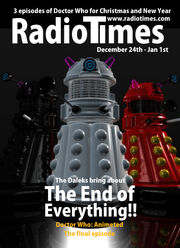 Blender is a 3D graphics application released as free software under the GNU General Public License.
It can be used for modeling, UV unwrapping, texturing, rigging, water simulations, skinning, animating, rendering, particle and other simulations, non-linear editing, compositing, and creating interactive 3D applications, including games.
Blender is available for a number of operating systems, including Linux, Mac OS X, and Microsoft Windows. Blender's features include advanced simulation tools such as rigid body, fluid, cloth and softbody dynamics, modifier-based modeling tools, powerful character animation tools, a node-based material and compositing system and Python for embedded scripting.
For more information on the program itself visit: Blender Website Wikipedia Article
Use in Doctor Who Fan productions
Edit
thumb|300px|right Blender is actually a much used but under commented on program for Doctor who fan productions, from Doctor Who Animeted to a lot of shorts on You Tube and Blender Who. It is perhaps one of the greatest boon to a small film maker as it's quality of work flow and the talent behind it can make or break a production. It is currently in it's official 2.49 stage and the second Alpha Version has been released, with the final 2.6 due for release some time around June/July 2010
Productions currently using Blender
Edit
Community content is available under
CC-BY-SA
unless otherwise noted.